I am so excited to learn that January is National Organization Month! As you know, one of my New Years Resolutions is to get my house in tip top shape - from top to bottom - ultimately creating a simple living space. I have been hard at work!! I have to admit, it's quite hard for me as I am a total pack rat :(. Years of saving everything has taken it's toll, and will obviously take quite some time to go through it all. As the saying goes, it didn't get this way overnight, it won't fix itself overnight. But, I am committed! I have already accomplished so much. So, wish me luck as I continue on my organization mission!
www.withjoycarey.blogspot.com shared this blog with me - I am so excited as it goes right along with my mission!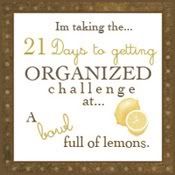 I am also working on my post to unveil all the updates and changes we have given our home, including Madison's room, the Kitchen/Family Room, the Study, and our Front Rooms. Stay tuned!!